Father's Rights Attack on Shelters for Battered Women and Children
Author: Marci Fukuroda, Esq..
Source: Volume 09, Number 03, February/March 2004 , pp.41-41(1)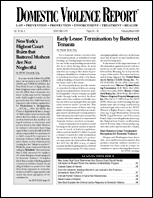 < previous article |next article > |return to table of contents
Abstract:
The domestic violence movement of the past thirty years has resulted in the creation of more legal protections and services for domestic violence victims than have ever existed. Unfortunately, with progress comes the backlash from those who feel that the movement has gone too far. Indeed, it has become increasingly apparent that advocates must not only fight at the "frontlines" to ensure safety and services for victims, they must also fight to "hold the line" that they have worked so hard to create. One area that has recently come under attack is emergency shelter services for battered women and children. In California, representatives of a father's rights group called the National Coalition of Free Men ("NCFM") filed a "test case" against ten domestic violence organizations in Los Angeles County. This article discusses that case.
Keywords: Blumhorst v. Haven Hills, et al., Los Angeles Superior Court Case No. BC291977; elimination of state funding for battered women's shelters and services

Affiliations: 1: California Women's Law Center.