Two Appellate Court Reversals Result in Victories for Survivors Who Killed Their Batterers
Author: Anne L. Perry, Esq..
Source: Volume 09, Number 03, February/March 2004 , pp.39-40(2)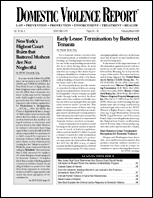 < previous article |next article > |return to table of contents
Abstract:
This column summarizes and discusses recent court cases involving the title subject: McNeil v. Middleton, 344 F.3d 988 (9th Cir. 2003) and Kosmin v. New Jersey State Parole Bd., 830 A.2d 914 (N.J. Super. App. Div. 2003)
Keywords: Habeas Corpus Relief Granted Due to Improper Instruction on Voluntary Manslaughter for Battered Woman Convicted of Murder.; Sally McNeil; Ray McNeil; imminent peril; Parole Ordered for Battered Woman After Manslaughter Conviction; Margaret Kosmin

Affiliations: 1: Associate Editor of DVR.