Letter to the Editor: Some Issues Raised by the Defense of the Broward Experiment of Batterer Counseling
Author: Edward W. Gondolf.
Source: Volume 09, Number 04, April/May 2004 , pp.61-63(3)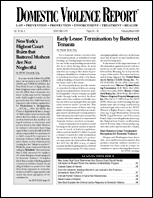 < previous article |next article > |return to table of contents
Abstract:
The author raises the questions: Are experimental designs using an "intention-to-treat assumption" sufficient to assess effectiveness? What is a sufficent and acceptable outcome measure? What role do contextual components of the intervention system have on the batterer counseling outcomes?
Keywords: experimental evaluation of batterer counseling; program dropouts and completers; offenders coerced into treatment; attendance

Affiliations: .