Helpful New Videos From Intermedia
Author: Joan Zorza, Esq..
Source: Volume 09, Number 04, April/May 2004 , pp.56-57(2)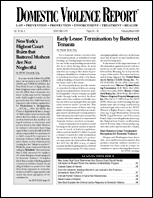 < previous article |next article > |return to table of contents
Abstract:
A review of three new videos: "When Injuries Speak Who Will Listen? A Health Care Response to Domestic Violence", "Dangerous Games: Power & Control in Teen Dating Relationships", "Safety First" available from Intermedia at 1165 Eastlake Ave E., Ste 400, Seattle, WA 98109, 800-533-8336, info@intermedia-inc.com.
Keywords: recognize and treat domestic violence related injuries; dating violence; healthy relationships; safety planning; legal services

Affiliations: 1: Editor, Domestic Violence Report.