VAWA Visions
Author: Juley Fulcher, J.D., Ph.D..; Alexandra Lee Delgado, M.Ed..
Source: Volume 09, Number 06, August/September 2004 , pp.81-83(3)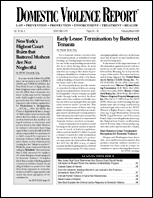 next article > |return to table of contents
Abstract:
An estimated 691,710 non-fatal violent offenses were committed by intimate partners (current spouses, former spouses, boyfriends, and girlfriends) during 2001; 85% of the victims were female. Next year the Violence Against Women Act of 2000 expires. A cost-benefit analysis of Violence Against Women Act estimates that, in the first six years, the legislation provided nearly $14.8 billion in total savings through averted medical, legal and other victimization costs. In other words, VAWA saved $159 per woman while costing only $15.50 per woman. In an era of slimming budgets, the Violence Against Women Act not only saves lives, but it also makes fiscal sense. At the time of going to print, the bill to reauthorize VAWA has not yet been introduced into Congress. The Violence Against Women Act of 2004 (VAWA III) is currently being drafted and reviewed as part of a collaboration between Congressional offices and advocacy organizations.
Keywords: VAWA III

Affiliations: 1: Break the Cycle; 2: University of Arizona.