Early Lease Termination by Battered Tenants
Author: Naomi Stern, Esq..
Source: Volume 10, Number 03, February/March 2005 , pp.33-36(4)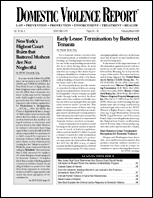 next article > |return to table of contents
Abstract:
For a domestic violence survivor who is a tenant in private or subsidized rental housing, an existing long-term lease may be one of the many housing barriers that she faces when fleeing abuse. In most states, landlord-tenant laws can trap tenants who are trying to flee abuse by providing no flexibility for a battered tenant to terminate her lease early, or by financially penalizing a tenant who terminates her lease early to flee abuse. This article discusses that issue and how certain states have dealt with it.
Keywords: United States ex rel. Alvera v. C.B.M. Group, Inc., No. CV 01- 857-PA (D. Or. 2001); Warren v. Ypsilanti Housing Commission (E.D. Mich.); Raney v. Crawford/Katica, Inc. (W.D. Wash. filed 2004); Winsor v. Regency Property Management, Inc. (Wis. Cir. C

Affiliations: 1: National Law Center on Homelessness & Poverty.