Complete Issue
Author: Joan Zorza, Esq..
Source: Volume 10, Number 04, April/May 2005 , pp.49-64(16)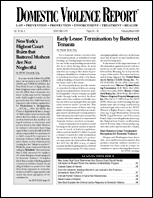 < previous article |return to table of contents
Abstract:
This is the complete issue, Volume 10 Number 4. It includes the full text of all the articles listed above, with hyperlinks from table of contents entries to articles and linked article continuations, to facilitate reading.
Keywords: Bow and Boxer survey; Types of Custody/Visitation Arrangements and Interventions Recommended by Evaluators; Navigating Custody & Visitation Evaluations in Cases with Domestic Violence: A Judge's Guide; batterer characteristics; Fails to Debunk the

Affiliations: 1: Editor, Domestic Violence Report.