Evaluating the Handling of Domestic Violence Cases by Custody Evaluators
Author: Nancy S. Erickson, Esq..; Joan Zorza, Esq..
Source: Volume 10, Number 04, April/May 2005 , pp.49-52(4)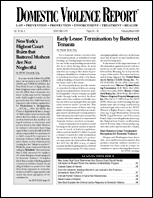 next article > |return to table of contents
Abstract:
Recent literature has raised serious questions about whether custody evaluators fairly evaluate custody disputes in families when there is domestic violence (DV). The critiques range from very strong to mild. A sampling are in Bancroft and Silverman (2002), Dalton (1999), Jaffe and Geffner (1988), Lemon (1999) and Walker and Edwall (1987). In response to this literature, James N. Bow and Paul Boxer wrote an article, "Assessing Allegations of Domestic Violence in Child Custody Evaluations" in the Journal of Interpersonal Violence 18, 1394-1410, which was published in 2003. That article reported on their survey to "assess the status of child custody evaluations involving allegations of domestic violence." Bow and another researcher, Francella A. Quinnell, had conducted and reported on a previous survey (2001), and this article will discuss both of those articles.
Keywords: Bow and Boxer survey; Types of Custody/Visitation Arrangements and Interventions Recommended by Evaluators

Affiliations: ; 2: Editor, Domestic Violence Report.