Multicultural Perspectives on Intimate Partner Violence
Author: Mindy B. Mechanic, Ph.D..; Miriam Valdovinos.
Source: Volume 11, Number 03, February/March 2006 , pp.39-40(2)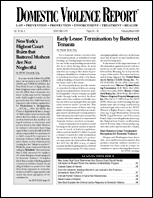 < previous article |next article > |return to table of contents
Abstract:
This column contains a book and a scholarly article reviewed respectively by this article's authors.
Keywords: Family Violence in a Cultural Perspective: Defining, Understanding, and Combating Abuse, by by K. Malley-Morrison and D.A. Hines; "The Risk of Partner Violence Among Low-Income Hispanic Subgroups", by S.B. Frias and R.J. Angel

Affiliations: 1: California State Fullerton.