Unbundling or Limited Scope Representation
Author: Joan Zorza, Esq..
Source: Volume 11, Number 03, February/March 2006 , pp.38-39(2)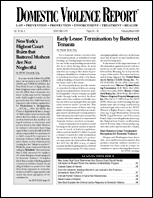 < previous article |next article > |return to table of contents
Abstract:
This column reviews Unbundling Your Divorce: How to Find a Lawyer to Help You Help Yourself, by M. Sue Talia, a revised edition of an earlier book.
Keywords: divorce cases have become more complex

Affiliations: 1: Editor, Domestic Violence Report.