National Benchmark Survey: The Impact of Domestic Violence on the American Workplace
Author: Kim Wells, M.A..
Source: Volume 11, Number 04, April/May 2007 , pp.49-53(5)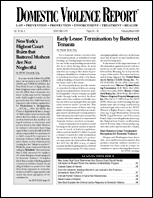 next article > |return to table of contents
Abstract:
According to a report released by the U.S. Centers for Disease Control in April of 2003, intimate partner violence victims lose a total of nearly 8.0 million days of paid work–the equivalent of more than 32,000 full-time jobs–and nearly 5.6 million days of household productivity as a result of the violence. In addition, the Bureau of Justice Statistics estimates that 13,000 acts of domestic violence are committed in the workplace every year. This potential for violence poses a threat not only to the victim, but also to the safety and well being of co-workers, clients, customers and the general public. Past national public opinion surveys have asked executives about their experiences and attitudes regarding domestic violence and its effects on the workplace. Before this survey, no one had ever used a random telephone poll to ask employed adults about their experiences and perceptions regarding domestic violence and its impact at work.
Keywords: Forty-four percent of those surveyed recognized domestic violence as impacting the workplace; workplace policies on domestic violence

Affiliations: 1: Corporate Alliance to End Partner Violence (CAEPV).