Complete Issue
Author: Joan Zorza, Esq..
Source: Volume 11, Number 05, June/July 2006 , pp.65-80(16)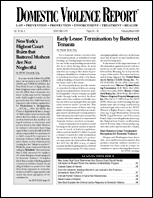 < previous article |return to table of contents
Abstract:
This is the complete issue, Volume 11 Number 5. It includes the full text of all the articles listed above, with hyperlinks from table of contents entries to articles and linked article continuations, to facilitate reading.
Keywords: challenges facing tribal women; crime rates, especially violent crime are higher in Indian than in non-Indian communities; Doctrine of Transferred Intent Applied Where Defendant Killed Child in Arson Attack on Ex-Girlfriend; History of Domestic Viole

Affiliations: 1: Editor, Domestic Violence Report.