Part II: Symposium: Domestic Violence & the Law: Theory, Policy, and Practice
Author: Nancy K. D. Lemon, Esq..
Source: Volume 11, Number 05, June/July 2006 , pp.71-74(4)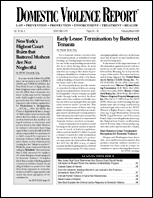 < previous article |next article > |return to table of contents
Abstract:
A symposium that featured eight widely recognized experts on domestic violence legal issues was held on October 3, 2003 at the St. Louis University School of Law and was reported in 23 St. Louis U. Pub. L. Rev. 1-365 (2004). This summary is part two of a two-part series, the first one appeared in the prior issue of DVR. It covers: Spotlight: Response to Violence Against Women at the University of Missouri at Columbia, by Mary Beck; Deconstructing Teresa O'Brien: A Role Play for Domestic Violence Clinics, by Leigh Goodmark and Catherine F. Klein; Applying Restorative Justice to Ongoing Intimate Violence: Problems and Possibilities, by C. Quince Hopkins, Mary P. Koss, and Karen J. Bachar; True to Character: Honoring the Intellectual Foundations of the Character Evidence Rule in Domestic Violence Prosecutions, by Andrew King-Ries.
Keywords: Intra-University Council on Violence Against Women (the Council); RESTORE (University of Arizona)

Affiliations: 1: Associate Editor of DVR.