Maine's Encouraging Law Protecting Animals in Domestic Violence Situations
Author: Joan Zorza, Esq..
Source: Volume 11, Number 05, June/July 2006 , pp.65-65(1)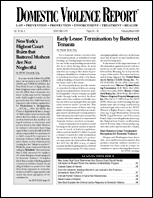 < previous article |next article > |return to table of contents
Abstract:
The Maine legislature heard testimony from Susan Walsh, a battered woman who repeatedly wanted to leave her abuser to protect herself and her two children, but could not do so knowing that her abusive husband would retaliate against their pets and farm animals. Her husband had killed pets before, by running over her blind and deaf collie, by shooting two sheep, and strangling her prized turkeys. In doing this he was letting her and the children know just how brutal and lethal he could be, and that he could easily do the same thing to their other pets, and to her and the children. The legislature got it, and passed a law to include relief to pets in orders of protection, which the governor, John Badlacci, signed into law on March 31, 2006.
Keywords: Jane Y. v. Joseph Y, 123 Misc.2d 771, 474 N.Y.S.3d 681 (N.Y. Fam. Ct. 1984)

Affiliations: 1: Editor, Domestic Violence Report.