Needs of Marginalized Battered Women
Author: Mindy B. Mechanic, Ph.D..
Source: Volume 11, Number 05, June/July 2006 , pp.65-68(4)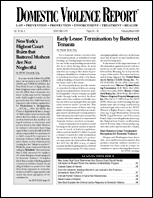 next article > |return to table of contents
Abstract:
This column reviews three articles regarding marginalized battered women: "Responding to the Needs of Older Women Experiencing Domestic Violence", by S.M. Straka and L. Montminy; "Violence Against American Indian Women and the Services-Training- Officers-Prosecutors Violence Against Indian Women (STOP VAIW) Program", by E.M. Luna-Firebaugh; and "No Resting Place: African American Women at the Crossroads of Violence", by J.Y. Taylor.
Keywords: challenges facing tribal women; crime rates, especially violent crime are higher in Indian than in non-Indian communities

Affiliations: .