The "Friendly Parent" Concept— Another Gender Biased Legacy From Richard Gardner
Author: Joan Zorza, Esq..
Source: Volume 12, Number 05, June/July 2007 , pp.65-68(4)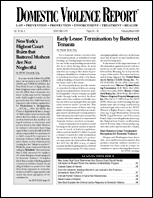 < previous article |next article > |return to table of contents
Abstract:
Many people doing child custody work know that Richard Gardner created Parent Alienation Syndrome ("PAS"), a theory without any scientific basis, that has never been peer reviewed, and that is not recognized by any professional association. This article discusses this and other theories, including the "Friendly Parent" Concept developed by Gardner and subjects them to critical scrutiny.
Keywords: Richard Gardner's first legacy: PAS; FPC Chills Women From Raising Abuse Allegations; Hays v. Gama; Tekestev B.M. v. Zeineba H; Lawrence v. Lawrence; Hopper v. Hopper; John A. v. Bridget M

Affiliations: 1: Editor, Domestic Violence Report.