"How Do You Know Your Batterer Program Works?"
Author: Dick Bathrick, M.A., L.M.F.T..
Source: Volume 12, Number 05, June/July 2007 , pp.65-66(2)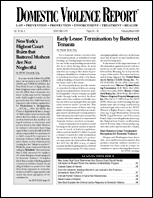 next article > |return to table of contents
Abstract:
During trainings, when Men Stopping Violence facilitators talk about community accountability as the key to ending male violence against women and girls, participants often shift the focus to the questions, "But what do you do in your groups, and how do you know whether they're effective?" These are not bad or spurious questions because it's important to assess the efficacy of Batterers' Intervention Programs (BIPs). Ed Gondolf's comparative studies of the strengths and liabilities of batterers' programs have been extremely illuminating. Among other things, they tell us is that swift and consistent responses from the community reduce batterer recidivism. But to constantly focus on the practices and outcomes of the various BIP models may be leading us away from some more important strategies and solutions.
Keywords: demystify the change process; community as participant

Affiliations: 1: Men Stopping Violence.