Female Genital Mutilation as a Basis for Refugee Status
Author: Rená E. Cutlip-Mason, Esq..; Son Nguyen.; Annie Khalid Hussain.; Johanna Thomas.
Source: Volume 14, Number 01, October/November 2008 , pp.7-9(3)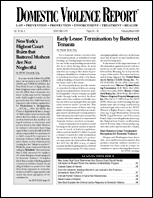 < previous article |next article > |return to table of contents
Abstract:
As this article explains, female genital mutilation (FGM) is a horrendously abusive practice largely forced by families on women and girls, and as such is a form of domestic or family violence. The World Health Organization (WHO) estimates that between 100 and 140 million women and girls have been subjected to FGM or female genital cutting (FGC), and that three million girls are estimated to be at risk for FGM each year.
Keywords: summary of FGM case law; Kasinga; Mohammed v, Gonzales; Barry v. Gonzales

Affiliations: 1: Tahirih Justice Center; 2: Arnold & Porter LLP; 3: Arnold & Porter LLP; 4: Arnold & Porter LLP.