State of Fear: One Survivor's Reflections on the Legal System
Author: Jody Raphael, J.D..
Source: Volume 14, Number 01, October/November 2008 , pp.5-7(3)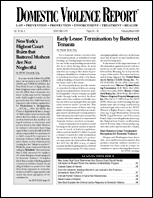 < previous article |next article > |return to table of contents
Abstract:
"Every time I pursued legal help, it made my situation worse," said Bernice Hampton, a 13-year survivor of serious domestic violence and stalking. In "Saving Bernice: Battered Women, Welfare, andPoverty , (Northeastern University Press, 2000, reviewed at 6 DVR 3 (2002)), I explained, in Bernice's own words, how Bernice's long-time partner and father of her two children used violence to keep her on welfare and out of the labor market, sabotaging her every effort at education, training, and work through violence and threats of violence. Now that my trilogy on women, poverty, and violence is completed ("Bernice" is the first volume), I have been reflecting on the ways that our systems and institutions in all three women's stories failed to respond at critical junctures, and how when they did, they made things worse for the women.
Keywords: Domestic Violence Hotline; Linkages With Domestic Violence Providers

Affiliations: 1: DePaul College of Law.