From the Literature
Author: Margaret R. Mead, J. D., M. L. S..
Source: Volume 16, Number 01, October/November 2010 , pp.9-11(3)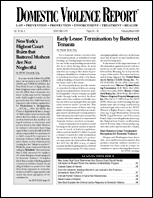 < previous article |next article > |return to table of contents
Abstract:
This article reviews the findings and conclusions of recent articles of interest to readers of DVR. In this issue: "The Integrity of the Game: Professional Athletes and Domestic Violence", Bethany P. Withers, 1 Harvard Journal of Sports & Entertainment Law 145 (2010); "Future Law Enforcement Officers and Social Workers: Perceptions of Domestic Violence", Elizabeth C. McMullan, Philip E. Carlan, and Lisa S. Nored, 25 Journal of Interpersonal Violence 1367 (2010).
Keywords: for the most part, off-field conduct such as domestic violence continues to be ignored by the professional sports leagues

Affiliations: 1: Pace University School of Law Library.