Order of Protection Cases, Including Enforcement
Author: Anne L. Perry, Esq..
Source: Volume 16, Number 01, October/November 2010 , pp.7-9(3)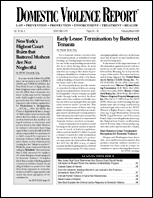 < previous article |next article > |return to table of contents
Abstract:
This article recounts the circumstances, decisions, and implications of the recent legal cases involving orders of protection: State v. Fernando A. , No. SC 18045 (Conn. 2009); J.S. v. J.F. , No. A-2552-08 (N.J. App. Div. 2009); Sperle v. Orth, No. A08-0774 (Minn. Ct. App. 2009; Simms v. Simms , No. 04 CV 1603 (N.C. Ct. App. 2009); In re Marriage of Meredith, 148 Wash. App. 877 (2009); Wee v. Eggener , No. S-13465 (Alaska 2010).
Keywords: New Jersey: Defendant and Professional Escort Had "Dating Relationship" for Purposes of Domestic Violence Restraining Order; Washington: DV Order Prohibiting Interference with Immigration Reversed as Unlawful Restraint on Speech; Alaska: Joint Cu

Affiliations: 1: Contributing Editor at DVR.