Literature Review
Author: Margaret R. Moreland, J.D., M.S.L.S..
Source: Volume 16, Number 04, April/May 2011 , pp.55-58(4)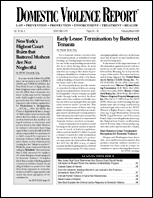 < previous article |next article > |return to table of contents
Abstract:
This column customarily reviews articles of interest to readers of DVR. In this issue, the articles take positions at variance with those of DVR on matters including restorative justice and/or are by authors not part of the DVR community. Articles covered are: "Evaluating Shame Transformation in Group Treatment of Domestic Violence Offenders", Christopher H. Loeffler, Andrew J. Prelog, N. Prabha Unnithan, & Mark R. Pogrebin, 54 International Journal of Offender Therapy and Comparative Criminology 517 (2010); "Bruise of a Different Color: The Possibilities of Restorative Justice for Minority Victims of Domestic Violence", Meghan Condon, 17 Georgetown Journal on Poverty Law and Policy 487 (2010); "Intimate Partner Violence Within Law Enforcement Families", Anita S. Anderson & Celia C. Lo. 20 Journal of Interpersonal Violence 1 (2010); and "Protecting Victims From Themselves, But Not Necessarily From Abusers: Issuing a No-Contact Order Over the Objection of the Victim-Spouse", Robert Friedman, 19 William and Mary Bill of Rights Journal 235 (2010).
Keywords: shame transformation; Nicole Simpson; de facto divorce; Professor Jeanne Suk; Washington v. Ross

Affiliations: 1: Pace University School of Law Library.