Complete Issue
Author: Joan Zorza, Esq..
Source: Volume 16, Number 04, April/May 2011 , pp.49-64(16)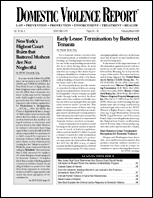 < previous article |return to table of contents
Abstract:
This is the complete issue, Volume 16 Number 4. It includes the full text of all the articles listed above, with hyperlinks from table of contents entries to articles and linked article continuations, to facilitate reading.
Keywords: connection between WB and domestic violence; RJ does not reduce violence; momentum for RJ coming from defense attorneys; Missouri: Order of Protection Based on Stalking Reversed in Absence of Repeated Acts Directed at Victim; Wisconsin: Course of Con

Affiliations: 1: Editor, Domestic Violence Report.