California Court of Appeal Holds Divorce Judgment Does Not Preclude Domestic Violence Tort Action
Author: Erin C. Smith, Esq..
Source: Volume 16, Number 04, April/May 2011 , pp.49-50(2)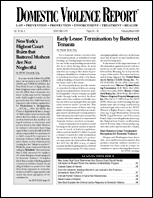 next article > |return to table of contents
Abstract:
In a case of first impression in California, the Court of Appeal recently held that a judgment of dissolution in a marital dissolution where domestic violence (DV) was at issue does not preclude a later tort action for domestic violence. The case, Boblitt v. Boblitt , 190 Cal. App. 4th 603 (Cal. Ct. App. 2010), offers practical lessons for lawyers who handle divorce/dissolutions, tort actions, or other legal proceedings where DV is at issue.
Keywords: Collateral Estoppel: Issue Preclusion

Affiliations: 1: Hoge, Fenton, Jones & Appel.