West Virginia: "Fathers' Rights" Suit Dismissed for Lack of Standing
Author: William D. Turner, Esq..
Source: Volume 16, Number 06, August/September 2011 , pp.81-83(3)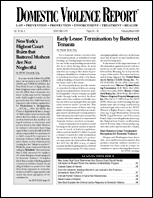 next article > |return to table of contents
Abstract:
Batterers are notorious in manipulating everyone, especially their victims. Batterers also use the courts to harass, exhaust, and financially drain their victims and alienate them from their lawyers. They do this by filing excessive motions and using other ploys, which are in actuality, if not so recognized, a form of stalking and harassment of their victims. More recently, batterers have started a campaign to try to deprive their female victims of services by attacking state funding and programs for battered women on the theory that such funding is gender-biased and discriminate against, or violates the free speech rights of, men. This article by an involved legal advocate for the victims discusses their efforts to do so in the West Virginia courts, through the fathers' rights organization, Men & Women Against Discrimination.
Keywords: Woods v. Horton (California); Men & Women Against Discrimination v. The Family Protection Services Board, et al

Affiliations: 1: West Virginia Coalition Against Domestic Violence.