Ruling on Statute of Limitations Allows Battered Spouse to Proceed With VAWA Self-Petition
Author: Anne L. Perry, Esq..
Source: Volume 17, Number 01, October/November 2011 , pp.13-13(1)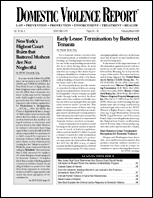 < previous article |next article > |return to table of contents
Abstract:
Plaintiff Candelaria Moreno-Gutierrez, a native and citizen of Mexico, married Felipe Gutierrez-Avila in Mexico in July 2000, at which time Gutierrez-Avila was already a lawful permanent resident of the United States. Moreno-Gutierrez entered the US without inspection. Gutierrez-Avila was twice convicted of domestic violence against Moreno-Gutierrez (in May 2004 and again in June 2004) and on both occasions Moreno- Gutierrez obtained a protection order against him. Because of these convictions, Gutierrez-Avila was ordered removed by an immigration judge on July 9, 2004, and thus lost his status as a lawful permanent resident of the US. In February 2006, Moreno-Gutierrez retained the services of a legal services attorney in order to self-petition for classification as a battered spouse of a lawful permanent resident under the Violence Against Women Act (VAWA). This case and its implications are discussed here.
Keywords: Moreno- Gutierrez v. Napolitano , No. 10-cv-00605-WJM-MEH (D. Colo. 2011).

Affiliations: 1: Contributing Editor at DVR.