From the Literature: Some International Implications of Domestic Violence
Author: Margaret R. Moreland, JD, MSLS.
Source: Volume 17, Number 01, October/November 2011 , pp.7-9(3)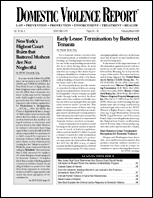 < previous article |next article > |return to table of contents
Abstract:
This research report summarizes the findings and conclusions of recent articles on DVR with international implications including: "Foreign Wives, Domestic Violence: U.S. Law Stigmatizes and Fails to Protect 'Mail-Order Brides'", by Olga Grosh, 22 Hastings Women's Law Journal 81 (2011); "Female Victimization and Intimate Partner Violence After the May 12, 2008, Sichuan Earthquake", by Ko Ling Chan and Yulian Zhang, 26 Violence and Victims 364 (2011); and "What Factors Are Associated With Recent Intimate Partner Violence? Findings From the WHO Multi-Country Study on Women's Health and Domestic Violence", by Tanya Abramsky, Charlotte H. Watts, Claudia Garcia-Moreno, Daren Devires, Ligia Kiss, Mary Ellsberg, Henrica AFM Jansen & Lori Heise, 11 BMC Public Health 209 (2011).
Keywords: Tahirih Justice Center; International Marriage Broker Regulation Act of 2005; Fox v. Encounters International' European Connection v. Gonzales

Affiliations: 1: Pace University School of Law Library.