IPV Within LGBTQ Communities: A Closer Look at the Challenges and Opportunities of Intersecting Identities
Author: Catherine Shugrue dos Santos, M.S.W..
Source: Volume 17, Number 01, October/November 2011 , pp.1-4(4)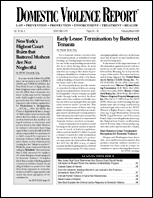 next article > |return to table of contents
Abstract:
Survivors of intimate partner violence (IPV) and advocates in the movement to end this violence have long insisted that abuse in intimate relationships affects people of all walks of life—regardless of race, ethnicity, age, immigration status, HIV status, class, education, or ability. Research, funding, and services have more recently focused attention on the diversity of experience of survivors of IPV, which has brought an important and welcome focus on culturally competent practice. However, until recently, attention to the diversity of experiences of lesbian, gay, bisexual, transgender and queer (LGBTQ) survivors of IPV has been limited. The key to ending IPV is to focus on intersectionality of identities for all survivors of intimate partner violence, including LGBTQ survivors.
Keywords: The National Coalition of Anti- Violence Programs; NCAVP; "Lesbian, Gay, Bisexual, Transgender and Queer Domestic/Intimate Partner Violence in the United States in 2009"; 15% increase in reports from LGBTQ survivors of IPV from 2008 to 2009; Hom

Affiliations: 1: New York City Anti- Violence Project.