"Intimate Partner Sexual Abuse: Adjudicating This Hidden Dimension of DV Cases" –A Free Web Course for the DV Community
Author: Lynn Hecht Schafran.
Source: Volume 17, Number 04, April/May 2012 , pp.51-53(3)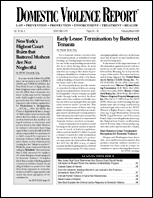 < previous article |next article > |return to table of contents
Abstract:
Why has the DV movement treated the sexual and physical abuse of women as if they were running on parallel tracks rather than intersecting? One reason is the history of marital rape law. This is a review and summary of the title website, with a breakdown of its modular content.
Keywords: intimate partner sexual abuse; IPSA; Raquel Kennedy Bergen, author of "Wife Rape" (1996)

Affiliations: 1: National Judicial Education Program.