DV Declared a Human Rights Violation
Author: Jennifer Cunningham-Minnick .; Joan Zorza.
Source: Volume 17, Number 04, April/May 2012 , pp.50-52(3)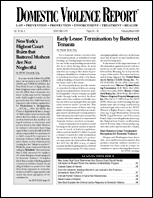 < previous article |next article > |return to table of contents
Abstract:
The Cincinnati City Council gave the cause to end domestic violence a big boost on October 5, 2011, when Council members passed Resolution No. 47-2011 declaring protection from domestic violence (DV) a fundamental human right. The Resolution passed City Council easily with eight of its nine members voting in favor of enacting it. Although most Council members would readily state that they are against DV, framing the Resolution in a human rights context created a new level of understanding and recognition of the issue. The Resolution passed after nine months of work by three University of Cincinnati Law School students who created it, lobbied for it, and publicized it. Vice-Mayor Roxanne Qualls sponsored the resolution and was instrumental in its passage. The Resolution, framed as ahuman rights violation under international law, is part of a movement that is working to expand on the ultimate success of the groundbreaking law suit brought by Jessica Lenahan regarding the local police's tragic failure to uphold an order of protection. This article is an insider's account of that case and the council's resolution.
Keywords: failure of local police to uphold order of protection; Castle Rock v. Gonzales; similar efforts underway in other cities

Affiliations: 1: University of Cincinnati School of Law; 2: Editor.