A Community-Based Approach to LGBTQH IPV: One Size Does Not Fit All
Author: Catherine Shugrue dos Santos, MSW.
Source: Volume 18, Number 01, October/November 2012 , pp.1-3(3)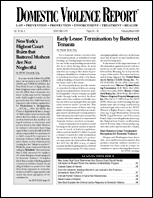 next article > |return to table of contents
Abstract:
There is a growing understanding of the diversity of experiences of intimate partner violence (IPV) within lesbian, gay, bisexual, transgender, queer, and HIV-affected (LGBTQH) communities, and a welcome attention on how to address IPV in culturally competent ways. Yet despite some improvements, mainstream IPV service models still have a long way to go to address the unique needs of LGBTQH survivors. The landmark report, "Why It Matters: Rethinking Victim Assistance for Lesbian, Gay, Bisexual, Transgender, and Queer Victims of Hate Violence & Intimate Partner Violence", demonstrated that, due to widespread discrimination and scarce resources, LGBTQH survivors are consistently deprived of access to culturally competent services such as counseling, advocacy, and shelter. This article discusses the "double bind" in which victims are snared and ways of addressing it.
Keywords: ways in which LGBTQ people experience violence within their relationships varies; higher their risk for all forms of violence, and the less likely they are to be able to find safety and support; New York City Anti-Violence Project

Affiliations: .