Case Reviews
Author: Anne L. Perry.
Source: Volume 18, Number 04, April/May 2013 , pp.55-57(3)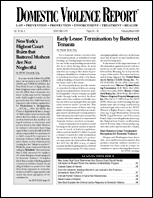 < previous article |next article > |return to table of contents
Abstract:
This column summarizes the background and discusses the judgments in some recent cases of interest to readers of DVR, including Matter of Zulandt, 939 N.Y.S.2d 338 (N.Y. App. Div. 2012); Ellington v. State, 735 S.E.2d 736 (Ga. 2012); Katare v. Katare , 283 P.3d 546 (Wash. 2012)
Keywords: New York attorney suspended for three years for pattern of domestic violence; death penalty reversed for man who brutally murdered his wife; Children in Home With Domestic Violence Considered at Risk Even Though Father Never Abused Children

Affiliations: .