No Wrong Door for Victims of Domestic Violence in Denver
Author: Becky Owens Bullard.; Steve Siegel.; Margaret Abrams.
Source: Volume 18, Number 04, April/May 2013 , pp.53-54(2)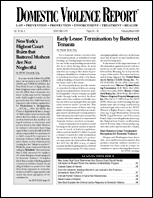 < previous article |next article > |return to table of contents
Abstract:
To receive appropriate services, a domestic violence (DV) victim often goes through a daunting process, filled with roadblocks and re-traumatizing events. This can make accessing support systems discouraging and exhausting for the victims and their family. Fortunately, the city of Denver has created collaborative service models that enable access to comprehensive services through any literal or figurative "door" a victim may enter. The "no wrong door" philosophy is the hallmark of victim services in Denver and provides the foundation for a number of innovative programs that support crime victims.
Keywords: Denver Domestic Violence Coordinating Council; DDVCC; Victim Services Network; VSN; Domestic Violence Triage Program

Affiliations: 1: Denver DA's Office; 2: Denver DA's Office; 3: Denver DA's Office.