On the Meaning of the Decrease in DV: An Exchange
Author: Staff Editors.
Source: Volume 18, Number 04, April/May 2013 , pp.49-51(3)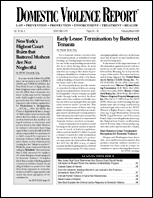 < previous article |next article > |return to table of contents
Abstract:
DVR received two letters in response to Professor Frank Zimring's article in the last issue of DVR- from Evan Stark and Joan Meier. The letters are reproduced here, together with Professor Zimring's reply. Also included is a chart, "Male and Female Victimization Rates, 1980-2010".
Keywords: downward trend in partner assault; problems with National Crime Victims Survey; NCVS; gender-specific death rates from family homicides

Affiliations: .