A Race Against Time: Evidence Collection in Domestic Violence Cases
Author: Deirdre Bialo-Padin, J.D..; Richard R. Peterson, Ph.D..
Source: Volume 18, Number 04, April/May 2013 , pp.51-54(4)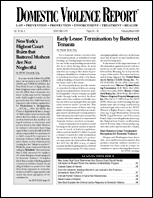 < previous article |next article > |return to table of contents
Abstract:
The passage of time does not work in favor of a DV prosecutor. It is a race against time: Will the prosecutor and advocate successfully engage with and enlist the participation of the victim? Or will the defense or a victim's social, economic, and emotional circumstances dissuade a victim from participating in the prosecution? Will law enforcement identify and preserve evidence of a crime or will it be lost or destroyed before a prosecutor even knows of its existence? If first responders failed to sufficiently document their observations, how quickly will their memories fade? Is there sufficient evidence for a successful prosecution, regardless of whether or not a victim participates in the prosecution? The ongoing relationship between the victim and offender increases both prosecutors' concerns about the risk of future violence and victims' concerns about the risks of cooperating with the prosecution. These issues complicate the prosecution of DV cases compared to other types of cases, and increase the importance of early evidence collection. This article identifies important strategies for collecting evidence in these cases. In the process, it draws upon the first author's experience prosecuting DV cases and the second author's study of the value of different types of evidence in DV cases.
Keywords: importance of collecting corroborative evidence in DV cases; video statements

Affiliations: 1: Kings County District Attorney's Office; 2: New York City Criminal Justice Agency, Inc..