Case Summaries: Considering Past History of Abuse in Protection Orders; Miranda Rights; Doctrine of Preemption; Enhanced Charges
Author: Anne L. Perry.; Julie Saffren.
Source: Volume 28, Number 02, December/January 2023 , pp.19-24(6)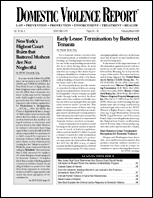 < previous article |next article > |return to table of contents
Abstract:
Our regular review of important court decisions analyzes the Illinois Court of Appeals decision in Richardson v. Booker, in which it reversed a trial court ruling that a prior history of abuse dating back 7 years was too far in the past to be considered in deciding whether to issue a plenary order of protection; the survivor victory was one of the rare appellate wins where the court did not remand for reconsideration of the evidence, but rather ordered the trial court to directly enter the POP on petitioner's behalf. In Maine, a murder conviction was upheld where statements to police were voluntary and court properly considered history of domestic violence (State v. Athayde, 277 A.3d 387 (Me. 2022). In U.S. v. Lopez-Castillo, the Eighth Circuit ruled that a prior offense for aggravated assault was a "crime of violence" sufficient to trigger federal firearm prohibition in calculating Castillo's offense level and criminal history category to result in a sentencing range of 110 to 120 months of imprisonment. In Ohio, the Court of Appeals of Ohio ruled in Sproat v. State, (Ohio Ct. App. 2022) that a person prohibited by federal law from possessing firearms due to domestic violence "does not qualify for any relief" from firearms disability under state law. Sentencing reform in California reduced most misdemeanor and felony probation terms to one or two years, but conflicted with the state's domestic violence statutes that mandated three years' probation. In People v. Rodriguez, the California Court of Appeals upheld the longer probation term for convictions where domestic violence is present. Also in California, a plaintiff was awarded judgment of more than $2 million from abuser where evidence supported stalking verdict (Quintero v. Weinkauf, Cal. Ct. App. 2022). And in Utah, State v. Redden, 505 P.3d 1146 (Utah 2022) was remanded for further proceedings where the state was ruled to have properly enhanced charges for violation of a protective order from misdemeanors to felonies.
Keywords: Considering Past History of Abuse in Protection Orders; Miranda Rights; Doctrine of Preemption; Enhanced Charges

Affiliations: 1: Contributing Editor; 2: Associate Editor.