Case Summaries: Admissibility of Evidence
Author: Anne L. Perry.; Julie Saffren.
Source: Volume 27, Number 04, April/May 2022 , pp.60-61(2)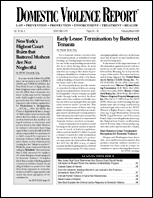 < previous article |next article > |return to table of contents
Abstract:
Our regular review of important court decisions focuses on evidentiary issues regarding the admissibility of certain evidence (e.g., victim's statements, prior acts evidence, evidence of a prior conviction). In two cases, State v. Cecconi, 480 P.3d 953 (Or. Ct. App. 2021) and State v. Curiel, 316 Or. App. 215 (Or. Ct. App. 2021), the Oregon Court of Appeals looked critically at the respective statements of two victims of domestic violence and, in both cases, determined that the trial court impermissibly allowed this evidence to be admitted at trial. Concluding that these errors were not harmless, the court reversed the defendants' convictions.
Keywords: Victim's Statements, Prior Acts Evidence, Evidence of a Prior Conviction

Affiliations: 1: Contributing Editor; 2: Attorney and Associate Editor, Domestic Violence Report.