Research Roundup: IPV Is Found to Be Predictor of COVID-Related Depression
Author: Megan A. Miller.
Source: Volume 27, Number 04, April/May 2022 , pp.59-60(2)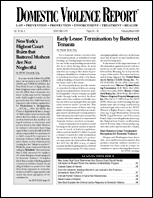 < previous article |next article > |return to table of contents
Abstract:
Older women with pre-pandemic histories of intimate partner violence (IPV) or childhood abuse experienced greater mental health distress during the COVID-19 pandemic, according to research conducted by psychologist Karen P. Jakubowski, an assistant professor of psychiatry at the University of Pittsburgh. This research review summarizes and explains her study, which was geared toward filling a research gap concerning the effects of COVID-19 on mental health. While the pandemic's impact on mental health has been previously studied, research has not analyzed the impact, if any, of pre-pandemic trauma on women's mental health during the pandemic. The study, "Psychosocial impacts of the COVID-19 pandemic on women with trauma histories: Study of women's health across the nation (SWAN)", by Jakubowski, K., Koffer, R., Matthews. K. et al, was presented at The North American Menopause Society Annual Meeting, September 2021, and evaluated whether older women with pre-pandemic experiences of childhood abuse or IPV were more likely to experience greater depression, anxiety, sleep issues, or conflict with household members.
Keywords: Psychosocial impacts of the COVID-19 pandemic on women

Affiliations: 1: Attorney and certified Domestic Violence Counselor.