California Enacts Many New Protections for DV Victims
Author: Pallavi Dhawan.
Source: Volume 27, Number 04, April/May 2022 , pp.55-58(4)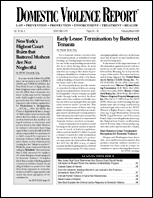 < previous article |next article > |return to table of contents
Abstract:
California has been at the forefront of legislative advances to support victims of domestic violence. This article reviews significant new laws enacted in California that provide enhanced protections and remedies for domestic violence victims across the fields of criminal, civil, and family law including provisions allowing for the consideration of trauma); expanding confidentiality and protective orders; facilitating the filing of domestic violence temporary restraining orders (TROs), domestic violence restraining orders after hearing (DVROs) and gun violence restraining orders (GVROs); codifying reproductive coercion; new child custody provisions; elimination of spousal rape crime; updated remedies for revenge porn; easing proof of identity theft; and expanding grants and funding. The author, Pallavi Dhawan, is the Director of Domestic Violence Policy for the Los Angeles City Attorney's Office where she works on implementing best practices at the intersection of domestic violence law and policy. She previously spent 13 years in the L.A. County District Attorney's Office specializing in domestic violence prosecutions.
Keywords: Criminal Procedure: Consideration of Trauma; Confidentiality and Protective Orders; Child Custody; Rape; Revenge Porn; Restraining Orders

Affiliations: 1: Los Angeles City Attorney's Office.