Reflections on Elder Abuse After 22 Years of Prosecuting Cases
Author: Paul Greenwood.
Source: Volume 27, Number 02, December/January 2022 , pp.19-21(3)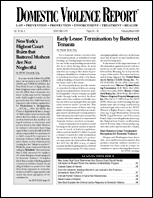 < previous article |next article > |return to table of contents
Abstract:
Paul Greenwood is a former UK lawyer and was lead prosecutor of the Elder Abuse Prosecution Unit at the San Diego District Attorney's Office for 22 years. He now conducts elder abuse trainings for various agencies around the country and serves as a consultant on civil elder abuse cases. In this article he looks back on how the field evolved and developed from one where police and district attorneys almost never brought elder abuse cases to arrest or prosecution to the point we are at today, when this form of abuse is well understood and prosecutions are no longer rare. Greenwood focuses especially on how combating elder abuse required (and still does require) building a coalition of interests, including law enforcement, adult protective service agencies, the medical community, advocacy groups, service associations, and volunteers. He also addresses the myth that elder abuse prosecutions are difficult, that the elderly are unreliable witnesses, and that while progress has been made, the isolation brought on by the Covid pandemic has brought with it an increase in rates of elder abuse.
Keywords: Prosecuting Elder Abuse

Affiliations: 1: Greenwood Law.