Case Summaries: Domestic Violence and Custody Law
Author: Anne L. Perry.; Julie Saffren.
Source: Volume 27, Number 02, December/January 2022 , pp.21-24(4)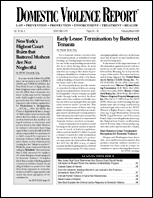 < previous article |next article > |return to table of contents
Abstract:
Our regular review of important appellate court decisions focuses on custody court cases where domestic violence is a factor. It treats an Alaska case (Jennifer L. v. Geoffrey G., 2021 WL 1997665, Alaska 2021) where a custody change to father was vacated for findings on domestic violence and presumption against custody to perpetrator; an Arizona case (Olesen v. Daniel, 484 P.3d 139, Ariz. Ct. App. 2021) where a custody determination was vacated for findings on whether father rebutted the presumption against custody to parent who committed domestic violence; a ruling from Massachusetts (Adoption of Jacob, 166 N.E.3d 475, Mass. Ct. App. 2021)that domestic violence was properly considered in the termination of parental rights; a case from California (In re Nathan E., 61 Call. App. 5th 114, 275 Cal. Rptr. 3d 380, Cal. App. Ct. 2021) in which the removal of children was affirmed due to domestic violence between parents; and several appellate decisions involving the Hague Convention's "Grave Risk" provisions (In re ICJ, 2021 WL 4187853, 9th Cir. 2021; Radu v. Shon, 11 F.4th 1080, 9th Cir. 2021).
Keywords: Custody Court; Protective Orders; Hague Convention Cases and the Grave Risk Exception

Affiliations: 1: Contributing Editor; 2: Associate Editor.