Congressional Response to Hardships of COVID-19
Author: Judith Lewis.
Source: Volume 26, Number 01, October/November 2020 , pp.1-4(4)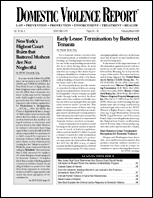 next article > |return to table of contents
Abstract:
In recent months, the public has been flooded with news of harrowing stories and statistics detailing the number of individuals testing positive for the coronavirus, the rising death toll, and the short- and long- term economic impact of the virus. In an effort to contain the spread of COVID-19, the government—at local, state, and national levels—has enacted unprecedented policies such as closing non-essential businesses. The shuttering of the economy, however, has come at a grave cost. Many individuals, families, and the entire nation are grappling with the challenges posed by economic insecurity. There is, however, another global health problem that has severe economic impact on society: intimate partner violence (IPV). This article focuses on the economic impact of COVID-19 on an individual and societal level. The article examines the congressional response to IPV and COVID-19, exploring the factors that explain why Congress immediately enacted legislation providing direct economic relief to individuals in response to COVID-19 but failed to take similar measures when responding to IPV.
Keywords: COVID-19 and Intimate Partner Violence; Federal Government Response to COVID-19

Affiliations: 1: Barbara J. Hart Justice Center.