Countries Threaten to Withdraw From Istanbul Convention
Author: D. Kelly Weisberg.
Source: Volume 26, Number 01, October/November 2020 , pp.15-15(1)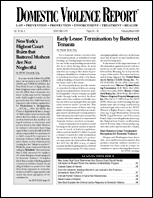 < previous article |next article > |return to table of contents
Abstract:
The Istanbul Convention is the first European treaty specifically targeting violence against women and domestic violence. This treaty decrees that violence against women and domestic violence are human rights violations. It has been signed by 45 of the Council of Europe Member States and ratified by 34 of them. Turkey was the first country to ratify the treaty in 2012. To date, no country has withdrawn from the Convention. That may soon change because the governments of both Poland and Turkey are currently considering doing so. This article examines why the two signatories may now withdraw.
Keywords: Conservative Reaction against LGBT "Ideology"

Affiliations: 1: Hastings College of Law.