Case Summaries: Protection Orders
Author: Annie L. Perry.; Julie Saffren.
Source: Volume 25, Number 01, October/November 2019 , pp.10-13(4)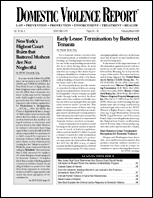 < previous article |next article > |return to table of contents
Abstract:
Our case summaries this issue review a decision in which a California court have secured rights to both criminal and civil protective orders for domestic violence victims; a questionable appellate court ruling that a Nebraska district court properly rescinded ex parte domestic abuse protection order against father who hit daughter; a New Hampshire case in which a motion to extend final order of protection was denied because the order had expired; and a U.S. District Court ruling that a statute prohibiting possession of firearms by person subject to DV protection order was upheld against constitutional challenge. Cases: Lugo v. Corona, 247 Cal. Rptr. 3d 764 (Cal. Ct. App. 2019); Maria A. ex rel. Leslie G. v. Oscar G., 919 N.W.2d 841 (2018); T.P. v. B.P., 200 A.3d 888 (N.H. 2018); D.G. v. M.G.G., 2019 WL 1441004, 2019 Ohio LEXIS 1287 (Ohio Ct. App. 2019); R.D. v. D.D., 2019 WL 1591942 (Ohio Ct. App. 2019); U.S. v. Boyd, N4:18-CR-00281 (M.D. Penn. 2019)
Keywords: Orders of Protection

Affiliations: 1: Contributing Editor; 2: Associate Editor.