The Ultimate Abuse
Author: Jane K. Stoever.
Source: Volume 25, Number 01, October/November 2019 , pp.9-11(3)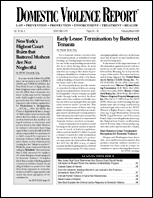 < previous article |next article > |return to table of contents
Abstract:
The pattern of domestic violence followed by child abduction, and authorities' failure to respond to this type of parental kidnapping, is too common and illustrated in this article by the stories of Sylvia, Yolanda, and Maggie's and their experiences with abusive partners, kidnapping, and the reluctance of police and family courts to intervene. The women in this article were fortunate because of the efforts of students and their professors at the Domestic Violence Clinic of the University of California Irvine School of Law.
Keywords: Child Abduction; Domestic Violence Legal Clinics

Affiliations: 1: University of California, Irvine School of Law.