Complete Issue
Author: D. Kelly Weisberg.
Source: Volume 24, Number 06, August/September 2019 , pp.85-100(16)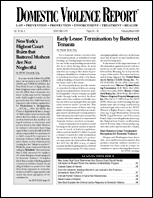 < previous article |return to table of contents
Abstract:
This issue of DVR highlights the relationship between intimate partner violence and suicide. Leading researchers have contributed several important articles. Gael Strack and Casey Gwinn discuss the innovative use of criminal charges against DV perpetrators to address their culpability in a victim's suicide and also the link between strangulation assaults and survivors' suicides. Jill Messing and Jackie Campbell explore the link between suicide, severe IPV, and homicide risk based on their analysis of data from the Danger Assessment risk assessment tool. Tony Salvatore examines the risk of suicide for women who experience intimate partner violence. Nyana Sabharwal addresses why perpetrators so often threaten to die by suicide. Kelly Weisberg explores our existing knowledge on murder-suicide and some of the legal problems that murder-suicide evokes. The complete issue includes all articles listed in the table of contents above.
Keywords: Domestic Violence and Suicide; Murder-Suicide

Affiliations: 1: Hastings College of Law.