Case Summaries
Author: Annie L. Perry.; Julie Saffren, J.D..
Source: Volume 24, Number 06, August/September 2019 , pp.95-96(2)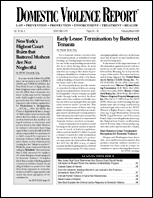 < previous article |next article > |return to table of contents
Abstract:
Our case summaries this issue review appellate rulings upholding a lower court's refusal to dismiss a juror who had been a victim of domestic violence in a domestic homicide case; a Sixth Circuit ruling finding a jail not liable for the suicide of a detainee held on misdemeanor domestic abuse; a Vermont state supreme court ruling that permitted the introduction into evidence of prior bad acts in a domestic assault case; and several cases involving threats of suicide by non-custodial fathers seeking to amend or reverse family court custody decisions. Cases: Nicholson v. State, 2019 WL 922292 (Tex. App. 2019); Baker-Schneider v. Napoleon, 2019 WL 1748704 (6th Cir. 2019); Dickson v. Dickson, 912 N.W.2d 321 (N.D. 2018); E.T.-M. v. Texas Dept. of Family and Protective Servs., 2019 WL 988222.
Keywords: Admissibility of prior bad acts; criminal damage prosecuted as domestic violence offense; domestic violence and property division in divorce; drug use during pregnancy

Affiliations: 1: Contributing Editor; 2: Associate Editor.