Case Summaries: Intimate Partner Homicide
Author: Anne L. Perry.; Julie Saffren, J.D..
Source: Volume 24, Number 04, April/May 2019 , pp.59-63(5)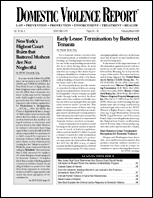 < previous article |next article > |return to table of contents
Abstract:
Our case summaries this issue review appellate rulings upholding convictions for domestic homicide. Nevada: husband's strangulation of wife supported conviction for first-degree murder; Ohio: murder conviction affirmed where husband acted with prior calculation and design; Georgia: husband's murder conviction affirmed over objection to statements made by wife to friends; Montana: doctor's testimony about wife's medical exam following strangulation properly admitted. Cases: Dunham v. State, 426 P.3d 11 (Nev. 2018); Estrada-Puentes v. State, 2018 WL 1720662 (Nev. Ct. App. 2018); State v. White, 2018 WL 4377928 (Ohio Ct. App. 2018); Jacobs v. State, 811 S.E.2d 372 (Ga. 2018); State v. Morgan, 814 S.E.2d 823 (Ga. Ct. App. 2018); State v. Porter, 410 P.3d 955 (Mont. 2018).
Keywords: Home invasions; misleading jury instructions; strangulation; admissibility of physician testimony

Affiliations: 1: Contributing Editor; 2: Associate Editor.