Access to Protection Orders for Same-Sex Couples
Author: D. Kelly Weisberg.
Source: Volume 24, Number 04, April/May 2019 , pp.57-58(2)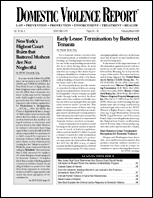 < previous article |next article > |return to table of contents
Abstract:
Intimate partner violence is a serious problem in the lesbian and gay community. Estimates suggest that LGBT intimate partner violence takes place at the same, or even higher, rates than in the heterosexual community. Even after the advent of marriage equality, not all same-sex intimate partners have had access to protection orders against their abusive partners. This article reviews recent reforms that allow same-sex protective orders in states where they had previously been denied, and examines advocacy efforts and the relevant case law and legislation enabling these reforms. Today, only North Carolina continues to prohibit the issuance of protective orders in same-sex relationships.
Keywords: Lawrence v. Texas; Doe v. State; Chapter 50B of the North Carolina General Statutes

Affiliations: 1: Hastings College of Law.