Case Summaries: Orders of Protection, Witness Recantation, Gun Restrictions
Author: Annie L. Perry.; Julie Saffren, J.D..
Source: Volume 23, Number 04, April/May 2018 , pp.53-58(6)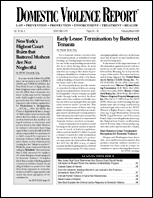 < previous article |next article > |return to table of contents
Abstract:
This issue's Case Summaries examines recent cases in which orders of protection were granted to a survivor of DV and her daughters, but not her infant son; the Washington State Supreme Court overruled lower court rulings saying that the infant should have been covered by the order even though he was not in the home at the time of the attack that precipitated the order. A key finding in the high court's analysis was that "[a]mple evidence supports the view that direct and indirect exposure to domestic violence is harmful." In a Wyoming appellate case, the state's Supreme Court upheld a jury conviction of attempted strangulation even though the victim had recanted, in a decision that charges rest solely in the prosecutor's power, governed by prosecutorial ethics, not with victims; and that victims will be safer when defendants understand that whether a charge is issued and what the charge is remains outside the control of the victim and that attempts to change or control a victim's participation or testimony will not avoid prosecution. In other cases reviewed here, the California Court of Appeal ruled against a defendant who at stipulated to causing "great bodily injury" to his partner, then attempted to mount a claim of self-defense; and the Ninth Circuit upheld a Hawaiian statute that applied a harsher standard to its ban against gun ownership by individuals convicted of DV than federal law.
Keywords: Rodriguez v. Zavala,398 P.3d 1071; Davis v. State, 406 P.3d 1233; U.S. v. Thomas, 877 F.3d 1077; Fisher v. Kealoha, 855 F.3d 1067

Affiliations: 1: Contributing Editor; 2: Attorney at Law.